Sunday Spotlight is a weekly scheme I am running to bring publicity to lesser known authors who, in the book blogging community, it is important to support. If you are an author and you wish to be considered for it please email me at
emily.confessionsofa
bookaholic@gmail.com
with
'Author Spotlight'
in the subject line.
This spotlight is a bit late due to a busy schedule but visiting today's Sunday-spotlight-on-Wednesday is John McCaffrey, author of the dystopian satire, The Book of Ash.
About John
Originally from Rochester, New York, John graduated from Villanova University, and later received his MA in Creative Writing from the City College of New York. His stories, essays and book reviews have appeared in more than 30 literary journals, magazines and newspapers.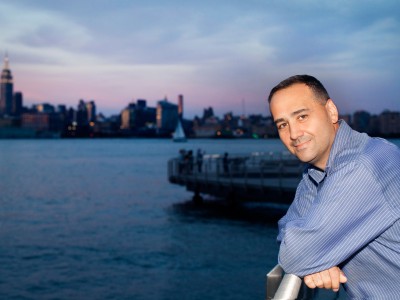 A Pushcart Prize nominee, his story Words, first published in Fiction Magazine, was also selected for Flash Fiction Forward, an anthology containing work from some of the most noted writers of our time, including Grace Paley, Dave Eggers, and Paul Theroux.
John also helps direct a nonprofit organization in New York City and is an Adjunct Creative Writing Professor at the College of New Rochelle's School of New Resources. His debut novel, The Book of Ash, was released by Boxfire Press in 2013.
Visit John on
Goodreads
|
Amazon
|
Website
Interview
Tell my readers about 'The Book of Ash'.

The idea for The Book of Ash came years before, right after 9/11. My first thought was to write a novel set in a society whose one and only goal is to create "emotionally healthy" individuals, people, for example, who are not inclined to crash planes into buildings or wage vengeful wars. But the more I wrote, the more I began to doubt that such a thing could be achieved. If anything, I latched onto the notion that forcing someone to behave in a certain way is the surest way for them to do the opposite. And so the book became darkly satirical, a dystopia in the same vein as Orwell's 1984, depicting, as one reviewer wrote, "a world that that is endearing and menacing, farcical yet deadly serious, wholly invented and yet strangely familiar."
While purposely comedic, I also think The Book of Ash is surprisingly sexy, perhaps not in a Fifty Shades of Grey way, but more in the understated, underhanded, and unhinged manner that befits most romantic relationships.
How do you balance the mixture of satire and dystopia?
My belief is that most or all writers are contrarians, more suspicious than cynical, especially when confronted with something that seems too good to be true. But I also believe that most writers are shy, and rather than stand up on a soap box yelling their views, they choose the safer haven of the page to voice their dissent. Even safer is satire, which blends humor into the mix, making it possible for a writer to dole out the medicine of their message, so to speak, with a bit of sugar. Thus, in the case of my novel, any balance I was able to achieve between satire and dystopia was achieved by wanting people to like me more than hate me for the story I was telling.
What is the best feedback you've ever got?
In the first fiction-writing class I ever took, my teacher, a wonderful woman and writer named Carol Dixon, who has since passed away, told me I had a "unique voice." I was not sure what exactly this meant at the time in regard to writing, but I knew it was a compliment, and I needed that so much at the time, not being sure if writing was something I was good at or wanted to pursue. As I matured, and learned more about the craft of writing, I began to understand that developing an original, consistent voice to tell a story is the single most important attribute. This makes me value Carol's words even more.
Who is your favourite character of your own creation and why?
I really like Baldwin Wallace, the lead character in The Book of Ash. He's 33-years-old, struggling in a bad marriage, terrified of his stepfather, and pretty much conditioned to be meek. Yet he retains an ember of rebellion in his soul that allows him to fight back and find something he never thought possible: true love.
What authors would you say have shaped your writing most?
I am an obsessive reader, and once I latch onto a writer I like, I'll read everything they've written, book by book, until I exhaust their collection and even my affection for their work. That said, no matter how much I try, I never tire of reading and rereading The Sun Also Rises by Ernest Hemmingway, which first showed me how important it is to use clear, concise prose. 1984 by George Orwell inspired me to take chances with imagining new worlds. Graham Greene, I feel, is the best at tapping into the inner psychology of a character to illuminate a wider theme. But of all the writers I have enjoyed, Somerset Maugham is the one who has most influenced me. I love the way he takes time to tell a story, twisting the beginning along so that you are always guessing, wanting more, even getting angry for him to hurry up, but never stopping the reading. Also, I have tried to emulate his style of spacing narrative and dialogue. His prose, to me, is the cleanest, prettiest around.
What are you most proud of in your literary career?
The fact that I'm finally able, after taking numerous classes, getting my MA in creative writing, struggling to write and publish stories, struggling to write and publish a novel, going through so much, that now I can teach writing to a degree I don't think I otherwise could. I truly feel blessed to be able to share whatever wisdom and experience I have with writers of all age levels, helping them tap into their creative force and reach their full potential.
What advice would you give new writers just starting out?
Compulsively observe. Be like Sherlock Holmes and take time to build the muscle of seeing the world, the smallest details, and the largest vistas. We are living in a time where many people experience the bulk of their day peering into an I-Phone or computer screen. The writer that breaks this trend, who takes time to see, hear, and feel the world around them, who can shut out the noise of technology and tap into the moment, will win the day with great work and publishing success. Then, of course, they can tweet all about it to their followers.
What kind of readers do you aim your book at?
People who don't take themselves or life too seriously, but are serious about living life to its fullest.
What should we look out for from you in the future?
I'm nearly done with a new novel set in Long Island during the Prohibition era. It's full of action and mystery, and, not to give too much away, Orwell.
Is there anything else that you wish the readers of Confessions of a Bookaholic to know about?
Only that it is a great blog and you do an outstanding job of giving writers a chance to connect with wonderful readers.
Thank you for joining us at Confessions of a Bookaholic!
About The Book of Ash:
A satire of feel-good therapy, presenting a post-apocalyptic dystopia where the peddlers of self-esteem often mask raging insecurities and homicidal urges. Struggling to survive (and just maybe find happiness) amidst the chaos is Baldwin Wallace, a 33 year-old miracle counselor whose marriage is crumbling under the weight of his wife's infidelity. When Baldwin finally decides to confront the issue once and for all, he is thrown into a dizzying swirl of events that not only threatens to change the future of this surreal world, but also bring him the one thing he thought he could live without: love.
Find The Book of Ash on
Goodreads
|
Amazon
John has also kindly agreed to an international giveaway of 4 paperback copies of The Book of Ash!
a Rafflecopter giveaway